Choosing wedding colors is a difficult process. From the minute you get engaged, closely following, "SO WHEN'S THE BIG DAY?!" comes the ever-popular, "and what are your wedding colors??" I always thought I'd like pink in my color scheme. I am a pink person. At least 50% of the things I own are pink. But when push came to shove, I didn't want to have such a girly wedding. I'm not Julia Roberts in Steel Magnolias. After scouring the wedding mags, I settled on this combo: Light Aqua and Cherry
Red. I was inspired by Cheree Berry, a Chicago Stationer's, wedding, we well as by details like these: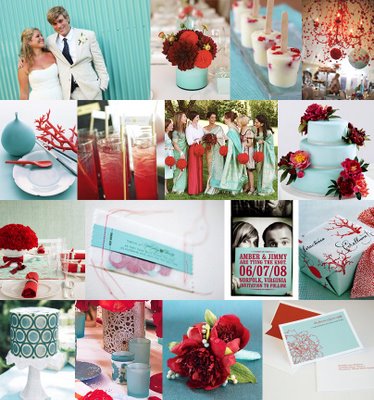 But really, my true inspiration
came from a
much more simple place: Home Depot! I went there and poured over the paint displays. It's an easy way to see your color scheme ideas and mix and match as much as you like. You can look at different shades of every color and best of all, the paint samples are free! Just pretend like you're seriously contemplating painting your entire house and those Home Depot employees will let you take as many samples as you like. I highly recommend it!
Warning: don't get too obsessed with the perfect shade of blue because in my experience, it's been really tough to match colors. In my opinion, there's a point where you have to stop obsessing over the difference between sea mist and mist; between light teal and light aqua.
For instance, check out my bridesmaid's dress swatch, by Aria, next to their Lela Rose for Payless (YES!) shoes - Mist and Sea Glass ain't a perfect match, but they'll have to do. I've heard good things about The Dessy Group and Pantone wedding, though I didn't go that route myself. In the end, it'll all be beautiful. We're now less than two months away!